If You're Going To Berlin, You Are Winning.
As the capital of Germany, Berlin has just about something for everyone. It's one of those places that can stimulate the taste buds of almost anyone that comes into contact with it. Drenched in history, this fantastic location will give you a lesson in culture, art, and dining. However, if you want to misbehave, Berlin has the ability to chew you up, and spit you right back out again.
It's up to you, are you hard enough to accept the challenge and take it on head first? Here are some reasons why you should go to Berlin next weekend:
1) The Nightlife Never Ends
That's right. If you're like us and you want to party hard, you might have just met your match with Berlin. If you want to go out and hit some bars at 19:00 on a Saturday, it's completely fine if you want to come home again at 08:00 on Monday morning. There are no rules. You want to live for the session? Berlin can accommodate. With various different districts sprawled across the city, you won't be short of places to find which tickle your fancy.
                     Popular Nightclub Berghain (Photo Courtesy Of BZ Berlin)
2) There's Something For Everyone
It might seem obvious from the heading, but Berlin does not discriminate. Whether you are straight, gay, a bit in the middle, or simply a pervert. There is something for you. This city prides itself on being tolerant, so you can really come here and be yourself without any judgments. Check out this guide to Berlin courtesy of TIME, to see which area might be for you: Berlin Where To Go Guide.
3) It's Affordable
When you go away for a weekend, it can be difficult finding a balance between location and cost. Not with Berlin however…
Whether you want to drink the weekend away, soak up some museums, or just ride the train around, you can do so for a pretty inexpensive cost. The average meal will cost you between 6-10 Euros, a beer around 3 Euros, and general grocery shopping to complete the set can be really healthy on the pocket. It isn't just cheap for a weekend however, general living costs in Berlin are very generous. Expatistan has summed it up pretty well with their easy to read list of affordability for the city.
4) There's Enough Transport To Cater For All
             Can't be bothered to walk? Get a reward with your exercise and have a beer.
Find walking exhausting? Man, you've earned yourself a pint I think. With an efficient transport network which includes, trains, buses, and trams, there really isn't an excuse to stay in your hotel room. Let's not mention the airport for now (read on for that), but you can pretty much get anywhere with relative ease.
If you like the look of the above, you can take a ride with BierBike. Ideal for you and your friends, or if you are a secret alone drinker, the perfect disguise.
5) The Food Is Really Good
You'll find whatever cuisine you fancy in Berlin. If you're a sushi fan, you're in luck. Afternoon-long happy hours abound throughout the city, but let's not just stop at that. You'll find Indonesian, Thai, Japanese, Italian, Spanish, Ethiopian, Mexican, and many more. Berlin has the highest number of Turkish people outside Istanbul, so you'll also come across many kebab spots to fill the gap after a night on the booze too.
6) The City Is Drenched In History
There's The Berlin Wall (what's left of it), Checkpoint Charlie, Brandenburg Gate, and Alexanderplatz just to name a few. All these places can be found within a stones throw. It's a historian's paradise, no matter how dark some of its past has been. You don't want to leave Berlin without checking out some of these sights.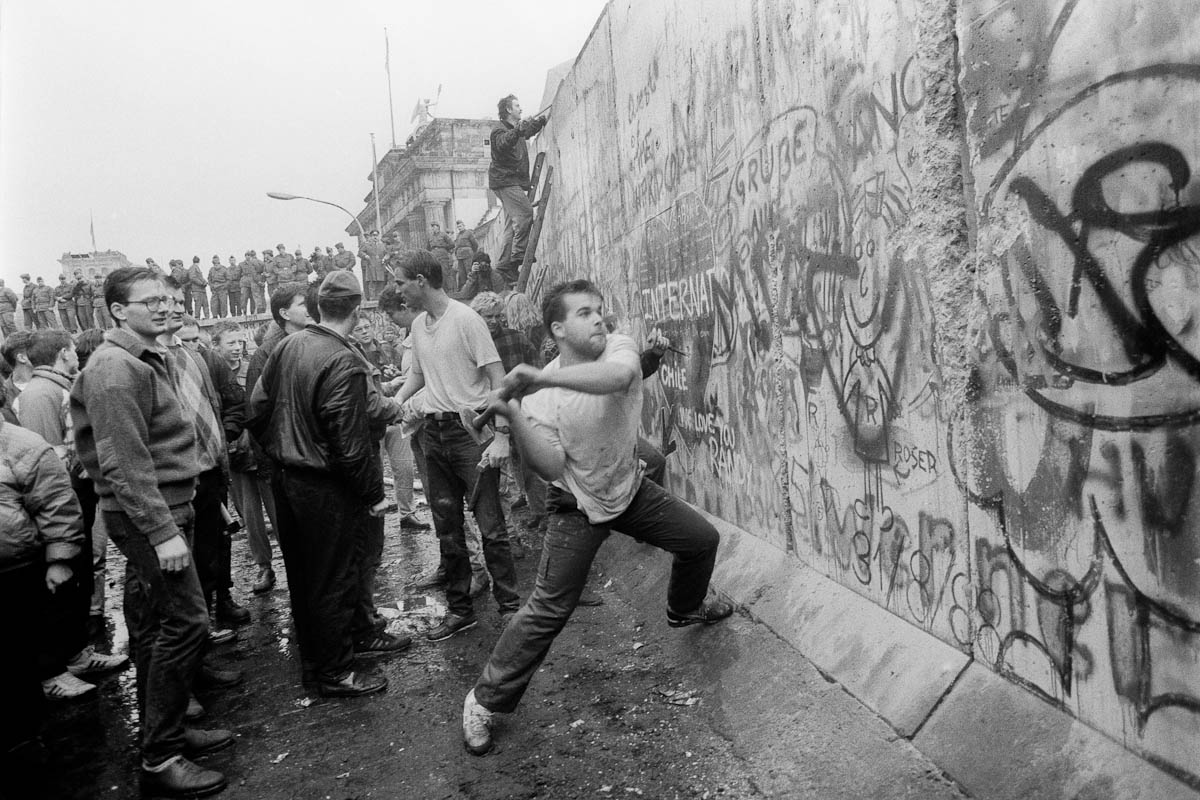 The Berlin Wall Came Down in 1989.
7) The City Is Mixed With Different Cultures
Leading on from the last point and blending in with the whole 'something for everyone' aspect, Berlin is a melting pot of joy. You will find people from just about everywhere on the planet here. Berlin screams 'be yourself', so it is a very expat friendly place. You don't need to make an effort to fit in, just be who you are, and you'll be accepted.
8) Bundesliga Football Is In Town
If you like your football then Berlin is a pretty good stop. Home of Hertha Berlin, if you're lucky you can catch a game at the Olympiastadion. Failing that, the city is also home to Union Berlin, a team that play in the equivalent of the second division. Take our word for it, any German football is worth watching for the matchday experience as much as anything else!
    Hertha Berlin On A Matchday.
9) The Airport Looks Like A Backdrop From Goldeneye
Yes, you read correctly. That popular James Bond film based in the Eastern Block and beyond? Well your arrival at Berlin Schönefeld Airport will make you feel as if you're about to rub shoulders with the smart Englishman himself. The big grey building and the security officers in green overalls will make you smile and your arrival to the city a memorable one.
It must be noted that this is one of two airports currently serving the city alongside Tegel. There is a new airport also being built on the site of Schönefeld, but this is still currently under development. Google the scandal to do with this at your own leisure!
10) Future Dance Music Berlin Takeover Part II
Probably more important than Checkpoint Charlie itself, on Friday 24th of March Future Dance Music is back at Musik & Frieden for another night of madness. Fresh music and a friendly atmosphere, with a well stocked bar and dance floor to thrill. What's not to like? You can check out the event, and purchase tickets below:
Future Dance Music Berlin Takeover Part II Information
Future Dance Music Berlin Takeover Part II Tickets
Make Sure Your Next Weekend Is In Berlin!
Berlin Skyline Photograph Courtesy Of Enis Mullaj